Whether you're in search of a collagen boost or want to minimize crow's feet, these 10 power foods can help you reach your goals
Want to achieve a healthy glow? Bite into a strawberry. That may sound like odd advice, but the old adage is true: You are what you eat. Science confirms that healthy, youthful skin begins from within, and eating foods that help your skin renew itself and replenish key nutrients can keep you looking healthier and more youthful. Add these 10 powerhouses of nutrition into your daily diet to see the positive effects.
Nuts and Seeds

Why You Should Eat Them
Almonds, walnuts, pumpkin, sunflower, and flax seeds are full of protein, omega-3 fatty acids, antioxidant vitamins and selenium.
How They Help
"When consumed daily, nuts and seeds can improve skin hydration, texture and smoothness while amping up that desirable healthy glow," says Joshua Zeichner, MD, Director of Clinical and Cosmetic Research in the department of dermatology at Mt. Sinai Medical Hospital in New York City.
Serving Suggestion
Occasionally use sunflower oil in place of olive oil to help decrease inflammation.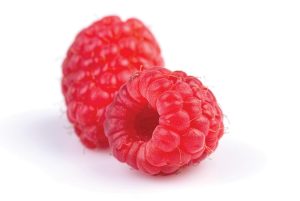 Berries

Why You Should Eat Them
Packed with powerful antioxidants, berries battle against free radicals with a vengeance.
How They Help
"Berries are sky-high in Vitamin C, which is essential for collagen production," according to registered dietician and COPE Certified Health Coach Maura Kindelan, owner of Kindelan Wellness based in Yonkers, NY. Micronutrients help regulate the skin's blood flow and may reverse some signs of aging.
Serving Suggestion
Grab a handful of berries as a quick and easy afternoon snack.
Lean Meat

Why You Should Eat It
Chicken, beef and lamb contain amino acids, which are the main components of collagen, a protein found in the skin.
How It Helps
Collagen gives skin support and structure, and youthful skin is bursting with it. Collagen production decreases with age, leading to thinner and looser skin.
Serving Suggestion
"Include protein in every meal to provide your skin with the building blocks it needs for strong collagen," recommends Jessica Wu, MD, a Los Angeles dermatologist.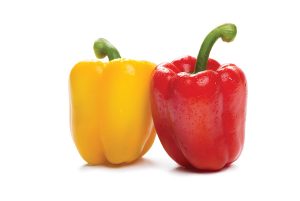 Peppers

Why You Should Eat Them
Wrinkles don't stand a chance against the one-two crunch of a red or yellow bell pepper.
How They Help
Rich in beta-carotene, lycopene, and Vitamin C, these bright veggies ramp up collagen production and smooth down fine lines around the eyes, while also diminishing sensitivity to UV light from the sun.
Serving Suggestion
When building a salad, keep in mind that red peppers contain more Vitamin C than their green siblings.
Fatty Fish

Why You Should Eat It
Packed with protein, servings of salmon, sardines, and mackerel are also swimming with omega-3 fatty acids: healthy fats that improve the resiliency of the skin.
How It Helps
"These good fats help to keep skin plump and lubricated," while also adding a dose of bounce and elasticity, says Wu. Powerful omega-3s reduce inflammation and can ease conditions like acne and eczema.
Serving Suggestion
Reel in wild salmon, which contains higher levels of fatty acids than its farm-raised relations.
Sweet Potato

Why You Should Eat It
That coveted healthy and youthful glow could be staring back at you from your dinner table, as these sweet spuds are a superb source of beta-carotene.
How It Helps
High amounts of this wildly beneficial antioxidant act as a natural sunblock, and may even add a warm, orange-ish sheen to your skin, contributing to an overall healthier and youthful appearance.
Serving Suggestion
A baked sweet potato makes a great side dish, whether it's wrapped in foil and placed in the oven or tossed into the microwave.
EVOO

Why You Should Eat It
Commonly called the elixir of the gods, extra virgin olive oil is one of the healthiest fats on earth.
How It Helps
It consists of mostly monounsaturated fat, which works wonders on skin elasticity and firmness. Anti-inflammatory properties make it a go-to remedy for skin ailments like acne. Antioxidants and vitamins may fade scars by aiding in the regeneration of skin cells.
Serving Suggestion
Make your own salad dressing! EVOO is, Zeichner contends, "perhaps considered to be the best diet for our skin."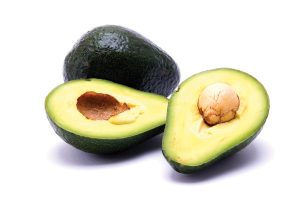 Avocado

Why You Should Eat It
Deliciously good for you and your face, this luscious, green fruit (yes, it's technically a fruit) is brimming with healthy fats and minerals, as well as polyhydroxylated fatty alcohols, which penetrate skin cells at their deepest levels, boosting cell regeneration.
How It Helps
Polyhydroxylated fatty alcohols offer protection from the sun and its damaging effects on your skin.
Serving Suggestion
Mix half an avocado with cilantro, lime, salt and pepper, and spread on toasted bread.
Tomato

Why You Should Eat It
"Tomatoes are rich in antioxidants that protect skin from the harmful effects of UV rays, pollution and environmental factors that break down collagen," according to Wu.
How It Helps
Antioxidants reduce the amount of potentially damaging molecules in the body that can cause dull, dry skin. And, tomatoes are loaded with lycopene, which has been shown to shield the skin from sunburn.
Serving Suggestion
Heat tomatoes with olive oil until the skin is slightly blistered. Serve as a side dish.
Broccoli

Why You Should Eat It
Broccoli boasts high levels of Vitamins C and E, making it "one of the best green veggies" for soft and supple skin, according to Kindelan.
How It Helps
Broccoli contains sulforaphane, a potent compound that protects against sun damage, while also helping to maintain skin's natural collagen levels. Full of Vitamin K, it can help ward off dark circles under the eyes.
Serving Suggestion
Dip these flavorful florets in hummus for a nutritious, filling snack.
© gettyimages