Want to hit the ground running when you wake up each morning? Start by making sure you're in the right mindset. Here are three proven morning rituals to try

It's a fact: Most people have the best ability to get work done just after waking up, according to researchers at the University of Nottingham and the National Institute of Education in Singapore. In a recent study, the researchers concluded that humans have a finite amount of self-control and productivity, which is slowly depleted during the day as psychological and physical fatigue sets in. Their conclusion? It's important to leverage that early-morning time by setting yourself up to maximize productivity. But how? In addition to completing your THRIVE three simple steps, here are three different morning rituals to consider that will help you maximize your day.

Eliminate Negative Self-Talk

There's a lot of truth to the concept that we are what we think. If you're constantly telling yourself you're not good enough to _ (make money? build relationships? reach your goals?), then guess what? You'll be right.

But the opposite is also true: Practicing affirmations – saying a series of short, specific, positive statements – each morning before you start your day can help you restructure your mindset and eliminate negative self-talk.

It's something that Le-Vel Co-Founder and Co-CEO Jason Camper swears by. Camper says he frequently meditates, simply saying the words "I am" in his head and adding any positive words that come to mind. "Fill in the blank with anything you'd like to become better at," he says. "Like, 'I am selfless, I am giving, I am passionate.' Even if I just spend a few minutes doing this exercise, it immediately puts me in a very positive state of mind," Camper adds.
If you're new to affirmations, here are four easy steps to practice them:

Step 1 Identify the self-sabotaging statements you're telling yourself most frequently – and write them down.
Step 2 Turn those negative statements positive. Instead of saying, "I'm not good at making money," say, "I welcome an unlimited source of income and wealth in my life."
Step 3 Handwrite your affirmations and keep them in a place where you see them often (like your day planner or your bathroom mirror).
Step 4 Get in the habit of reading your affirmations daily – but especially when you need a motivational boost.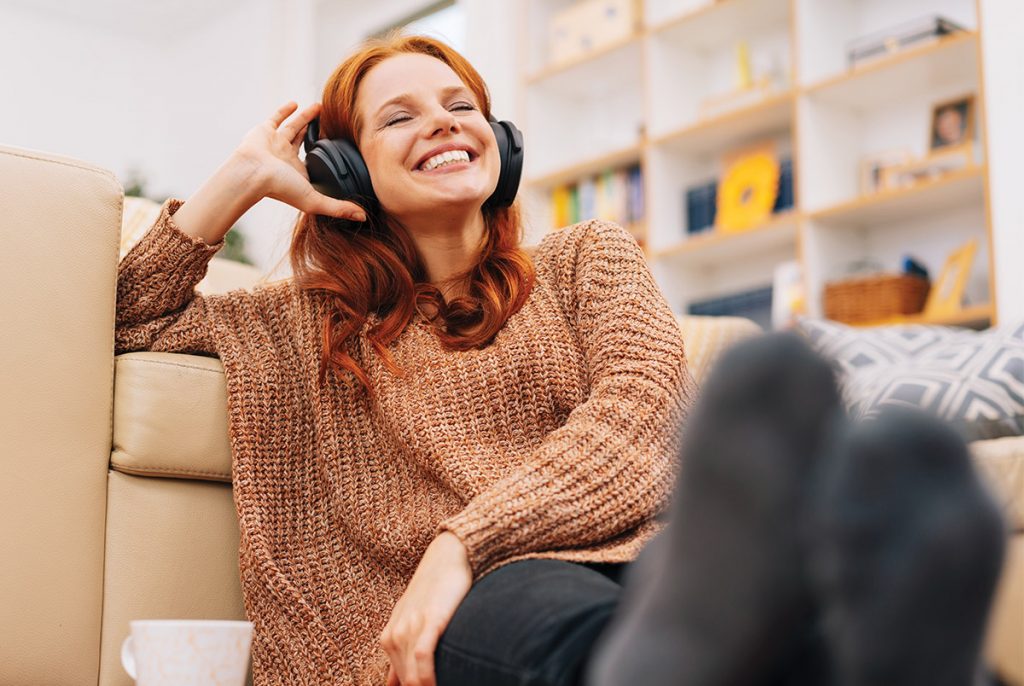 Listen to a Podcast

Tuning in to a great motivational podcast is like having a personal mentor or coach on call. Find a few that speak to you and listen up whenever you need a boost. Here are a few to consider:
School of Greatness with Lewis Howes
Hosted by New York Times bestselling author, entrepreneur and former pro athlete Lewis Howes, this podcast includes interviews with some pretty impressive people, ranging from world-class athletes to some of the most influential thought leaders out there. This is the podcast to channel when you want to remind yourself to dream big.
The Great Girlfriends Show
In this conversational series, entrepreneurs Sybil Amuti and Brandice Daniel give women entrepreneurs the strategies and tips to establish a successful business – but they also delve into other important tactics that will help with mindset, like how to create a life you can truly be passionate about.
Jot Down Your Thoughts in a Journal

There's no doubt that visualizing your success is key to making your dreams a reality. Put those visions to paper by jotting down your positive thoughts in a journal each morning. It helps clarify and prioritize what you want to focus on next.

Buy a journal that matches your style, and don't overthink it. Spend 10 minutes each morning journaling about your goals to remind yourself to keep your eyes on the prize. The key is to use positive language as you consider what you want to accomplish and improve upon.
Stumped? Here are some writing prompts to consider:

What step do I want to accomplish today that will
help me reach my goal?
What strengths have I spotted in myself this week?
Who has been helpful on my journey?
What gifts do I possess that I want the world to see?
What challenge do I need the most help with today?
What are my core values that ground me in my work?
What am I most grateful for?
10 Affirmations to Try
Consider adding these career-focused affirmations to your list:
I pursue my goals with enthusiasm and joy.
I create opportunities for myself and my business.
I always find the mentors I need.
I am a natural leader.
I play a big role in my own career success.
I do work that helps people.
I believe in my ability to make the world a better place.
I am capable of stepping outside of my comfort zone.
Every day I take at least one step that moves me closer to my goals.
I am driven to succeed.
©Oleg Breslavtsev; Contrastwerkstatt; Justlife