Here are three creative ideas for intimate events
Newsflash: Small gatherings are making a comeback, according to Susie Bramhall, founder of LotzOfHappy, an entertainment website. "People are so busy Zooming and sending texts and emails, they're yearning for more face-to-face interaction," she says. "While I love attending events, you rarely walk away getting to know anyone on an intimate level." Her solution: "I throw a lot of backyard parties with just a handful of guests," she says. "They're a great way to get to know people on a different level." Here are three ideas for backyard-themed parties that are sure to please a (small) crowd.
1
A Night at the 'Drive-in'

Fewer blockbusters were released over the last summer, so why not premiere a well-loved classic or a buzzworthy indie flick from the last Academy Awards – right in your backyard. Simply roll your large-screen television onto the patio or purchase a pocket-sized projector and hang a sheet on the side of your house as a screen.

Set the scene: Drive-in movies easily lend themselves to a retro theme. Start by creating an outdoor movie marquee in miniature to get guests in the spirit.

Fashion chairs to look like cars. (You can even assign seating by adding a "license plate" to each chair, with the guest's name.) Present everyone with old-fashioned tickets.

Include cushions and throws for those who want to stretch out under the stars, and consider theming them: If you're showing a classic science fiction movie like Star Wars, gift attendees with Darth Vader throw blankets.

Serving suggestions: It's all about the crunchy snacks! Create a popcorn station on a wicker table or stand, and serve a variety of flavored popcorns, some sweet (like caramel or chocolate-drizzled corn) and some spicy (like popcorn laced with chili-lime or cayenne pepper).

For a healthy alternative to popcorn, consider serving THRIVE BITES POPCORN CHIPS, a compression-popped salty snack that tastes every bit as good as the real thing (and provides 2-3 grams of protein). These crunchy snacks come in four flavors – Honey BBQ, Movie Theater Butter, Sweet Jalapeno and White Cheddar.
2
A Wine-Tasting Party

Give adults a taste of Napa or Sonoma by creating a wine tasting outside. Invite a local wine connoisseur to introduce people to the different varietals and offer some tasting tips. Gift each participant with a wine charm so they can keep track of their glass and have a memento from the evening. Set up a separate station for each wine, and include a description of the wine and tasting notes on chalkboards. Give guests their own chalk to add their impressions or rate the wine using a star system.

Set the scene: Drape inexpensive bistro tables with simple white tablecloths and top them with wine bottles and wicker baskets filled with wildflowers. Play soft jazz music in the background. Use tiki torches to string Edison lights around the area for a wine country feel.

Serving suggestions: Besides the wine, set up cutting boards featuring individual portions of different cheeses. Include small tags detailing the history of the cheese and providing a pairing suggestion. Keep the rest of the menu simple, with a few upscale appetizers, like lemon-curd toasts with coconut or caprese bites and figs stuffed with goat cheese. Another idea: Offer mini gourmet pizzas topped with interesting ingredients. Bonus: Add an olive bar for additional flavor.
3
A Pumpkin-Carving Soiree

Everyone loves to go to the pumpkin farm in the fall. Why not create your own pumpkin patch at home, complete with a pumpkin-carving competition? Serve treats and play spooky music for a fun-filled day.

Set the scene: First, grab some bales of hay at your local crafts store. The large ones can be used as seating, and the small ones can be used for pumpkins. Mix around some scarecrows, and use bandannas for tablecloths or napkins. Since pumpkin carving is a messy activity, you can spread out newspapers or inexpensive fabric on the ground for carving stations. Set up the stations with pumpkins, carving kits and LED lights that guests can put in their pumpkins when complete. Stream Halloween or barnyard music to get guests in the mood.

Serving suggestions: Serve root beer or lemonade in glasses with a farmhouse feel (we like mason jars). You could also fill some of the jars up with candy corn for a colorful centerpiece decoration. Make the food simple – think charcuterie to mini hot dogs served in crescent rolls as an appetizer. For the main course, pre-make veggie burgers or hamburgers to grill, and serve them along with fruit or veggie skewers. If you have a chiminea, s'mores for dessert would be a simple, fun addition.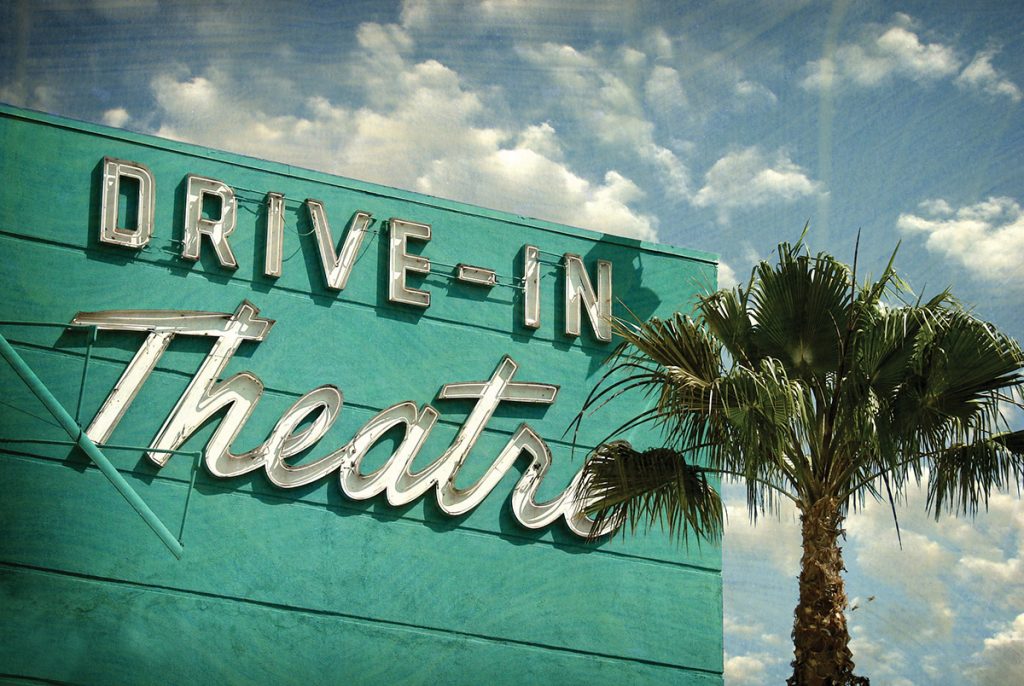 A Night at the Real Drive-in
Miss going to the movies? For a fun outing, grab the family or a friend and seek out your local drive-in. These venues made a strong resurgence over the summer. Many old drive-in venues that were shuttered have reopened; others have expanded their offerings, and still others are popping up in temporary locations so that viewers can enjoy a flick from the safety of their own cars. Before makeshift theaters started popping up around the country, there were only 305 drive-in movie venues in the United States, with many of them concentrated in New York, Pennsylvania, Indiana, Ohio and California. But new pop-up locations are sprouting up near big cities everywhere.

One example: Walmart partnered with Tribeca Enterprises, which hosts the annual Tribeca Film Festival, to convert 160 store locations into makeshift drive-in movie theaters. In August the retailer debuted "safe, socially distanced drive-in events at Walmart Supercenters across America."
© NDABCreativity; Tatyana A.-Tataks; Africa Studio; Jdoms' Alexey