Whether you're looking for an adventurous group getaway or a serene space for some serious contemplation, here are six luxurious retreats that fit the bill
Happy. Relaxed. Reinvigorated. There's a reason why you return home from vacation, or even just a weekend away from home, with a fresh, lighter perspective. Moments of self-care and indulgences in your mental and physical health result in a strong emotional response that simply can't be duplicated when you're in your own digs, consumed with the daily grind.
But not all getaways are created equally. We've curated a list of six retreats throughout the U.S. that are ideally suited for different types of escapes – from locales that promote bonding among family members, friends or colleagues to secluded places for some serious pampering or quiet contemplation.
No matter which one you choose, you're bound to return home feeling rejuvenated and ready to take on the world.
The Ranch at Rock Creek
Philipsburg, Montana
Adventure seekers, couples that want to reconnect
A luxurious dude ranch? It exists. The Ranch at Rock Creek is the world's first Forbes Travel Guide five-star guest ranch, offering up rustic adventures in a high-end environment. Guests at the ranch can choose from a variety of free daily activities, ranging from fly fishing excursions, shooting sports, wildlife viewing tours and rodeos.
For some unique group bonding a la City Slickers, join the resort's ranch team for a few hours and learn about the 127-year-old homestead and what it takes to run a modern cow operation. You'll accompany the ranchers as they tend to their daily tasks, which vary every day; on one occasion, you might travel via horseback to check on newborn calves; on another, you may jump on a utility- terrain vehicle to feed hay to the herd.
The next day, build in some time for quiet contemplation or a creative powwow with your co-travelers and book a morning or afternoon at the resort's Rock Creek hideaway, a calm oasis where guests are encouraged to leave their smartphones in their rooms. You'll be assigned a secluded creekside spot which you can access on foot or via mountain bike or e-bike for a few hours of restorative calm.
Commune with nature, play a quiet game or nap in a hammock; at the appropriate time, an attendant will arrive to provide refreshments or specially requested items, like books, horseshoes, a bocce ball set or Frisbees.
If you're seeking some bonding time with a significant other, the hotel's concierge can arrange for that, too, with a romance itinerary that includes pastoral picnic lunches, private wine tastings and morning coffee and pastries delivered to your room.
Hyatt Regency Tamaya Resort & Spa
Santa Ana Pueblo, New Mexico
History buffs, crafters, adventurers
If you're a fan of the TV show The Bachelorette, you'll already recognize this scenic spot; the latest season featuring Katie Thurston was filmed here. But the resort is more than a reality-show hotspot. Owned by the Santa Ana Pueblo, the 500-acre property provides a taste of Native American culture, regularly showcasing Native American arts, as well as traditional Pueblo bread-making demonstrations. The resort also features a wide variety of classes led by members of the Pueblo, including jewelry-making lessons taught by a Navajo silversmith, and storytelling under the stars with notable Native American storytellers.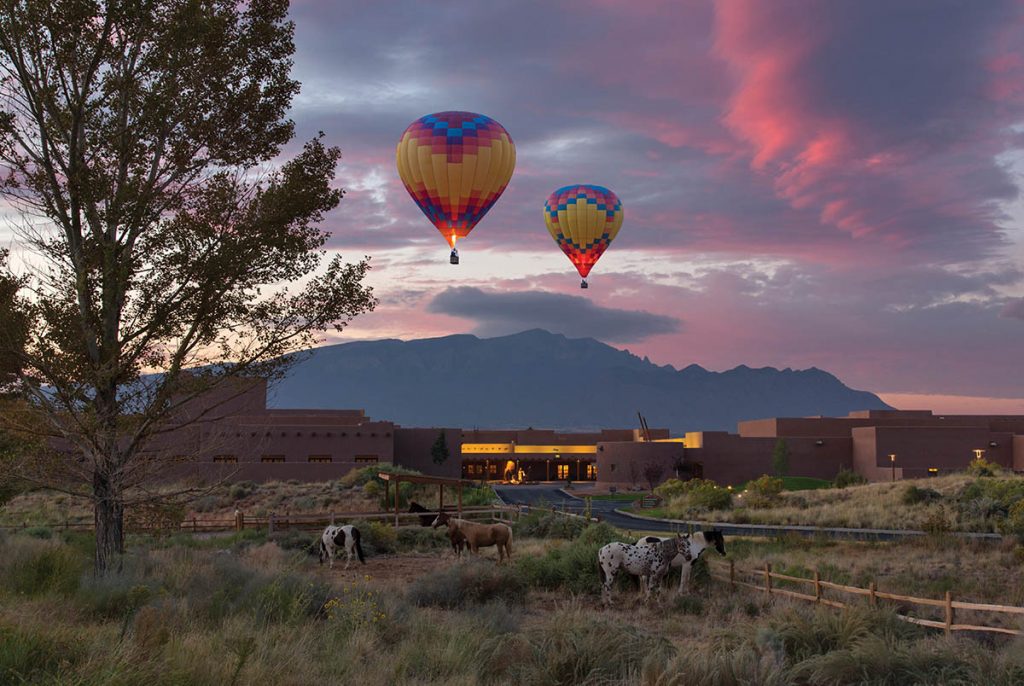 For an unforgettable experience, the concierge can book a number of adventures, including a hot-air ballooning trip, which offers up stunning views of the resort, Sandia Mountains and Rio Grande River Valley.
Dunton Springs Resort
Dolores, Colorado
Serious R&R
Nestled in a former mining town surrounded by pine forest and mountains, this upscale all-inclusive resort features restored hand-built cabins (some dating back to the 1800s) with wood-burning stoves. Every window affords magnificent views of the mountains and the surrounding meadows.
But as enticing as the lodging may be, the real attraction is the property's hot springs, which are of the calcium bicarbonate type with a strong concentration of dissolved iron, manganese and dash of lithium. Bathing in bicarbonate water helps to aid in circulation to the body's extremities and promote healthy skin, not to mention some serious relaxation.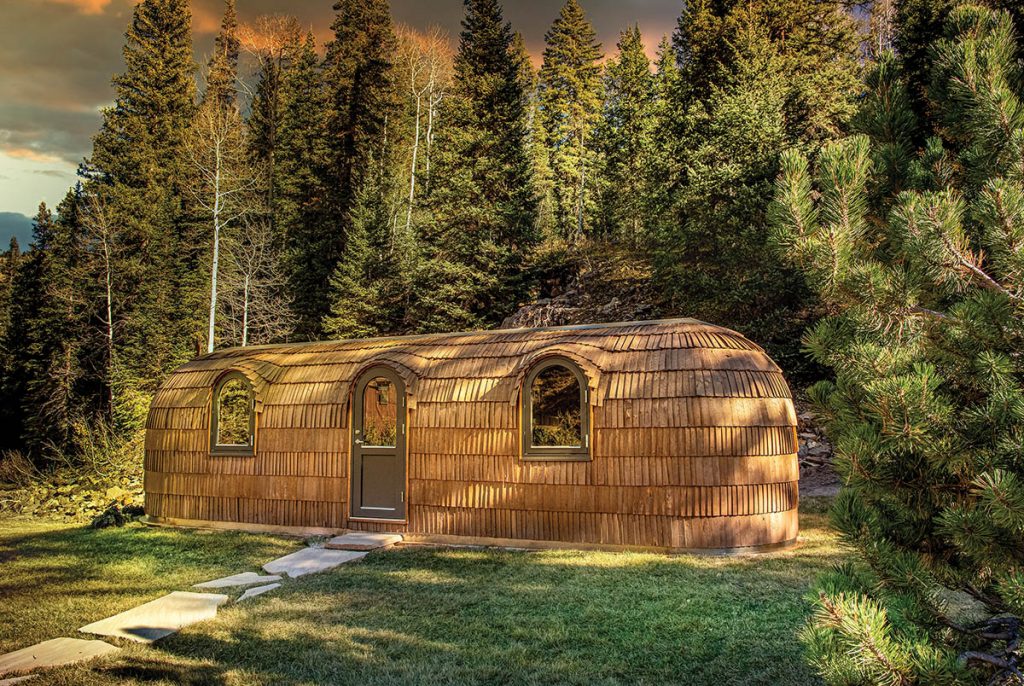 There are several ways to enjoy the soothing springs, which range in temperature from 85 to 106 degrees Fahrenheit: inside the beautifully restored 19th century Bathhouse; under the stars at the source; in an expansive pool outside the Bathhouse; in the pool behind the Dunton Store cabin; and inside the Well House cabin. In addition, some cabins include their own indoor or outdoor hot spring tubs.
Adventure seekers can opt for activities such as fly fishing and heli-skiing and soothe their sore muscles in the springs afterwards.
Those seeking less active pursuits have a wide variety of activities from which to choose, including photography and fine art instruction and archeological day tours to the desert.
Unwind at the end of each day in the property's well-stocked library or its old-time saloon.
Faena Hotel Miami Beach
Miami, Florida
Nightlife-seekers, beach lovers
If sipping a cocktail by the beach or pool is more your style, one of the most unique options is the Faena Hotel, an Art Deco-inspired beachfront oasis that is known for its over-the-top service and spirited entertainment.
At Faena Beach, you'll be encouraged to dig your toes into the sugar-white sand while enjoying some luxe pampering coordinated by the hotel's beach butlers, who are on hand to tend to your every need. (They even offer fresh-water foot washes.)
Or, rent a cabana and relax in a chaise lounge by the palm-fringed pool. Pool butlers will clean your sunglasses and provide fruit-infused water, small bites and reading material.
When it's nighttime, dress to the nines and enjoy cocktails in The Living Room, which features small plates, craft cocktails and a wide array of wines to sip over live entertainment.
Or don your dancing shoes and head to Saxony Bar, a late-night lounge in a speakeasy setting featuring live DJ sets every Thursday, Friday and Saturday night.
Another entertaining option: Inspired by Europe's grand opera houses and the glittering allure of Old Hollywood, Faena theater showcases ambitious artistic productions, including the hotel's highly acclaimed cabaret performances.
Be sure to schedule some time to unwind at the Tierra Santa Healing House, which offers an array of signature spa treatments and healing arts. One to try: The Tree of Life hot stone ritual, in which Nepalese singing bowls handmade from seven different metals are used to gently warm and soothe the lower back, slowly diffusing its vibrations to release deep-seated tension in the body.
The Essex Resort
Essex Junction, Vermont
Foodies, group bonding
Awaken your inner chef at this Vermont getaway, which features a Cook Academy where beginners and advanced cooks can hone their skills with a range of classes that focus on a variety of cuisine preparation, ranging from Sunday brunch (think popovers, benedicts, frittatas and mimosas) to sushi-making.
A "Gourmet Getaway" package includes two nights' accommodations and one Cook Academy class per person, along with meal credits for the resort's restaurants.
If you're traveling with a competitive crew, the hotel can set up an "Iron Chef" competition where participants slice, dice and sauté their way to the top.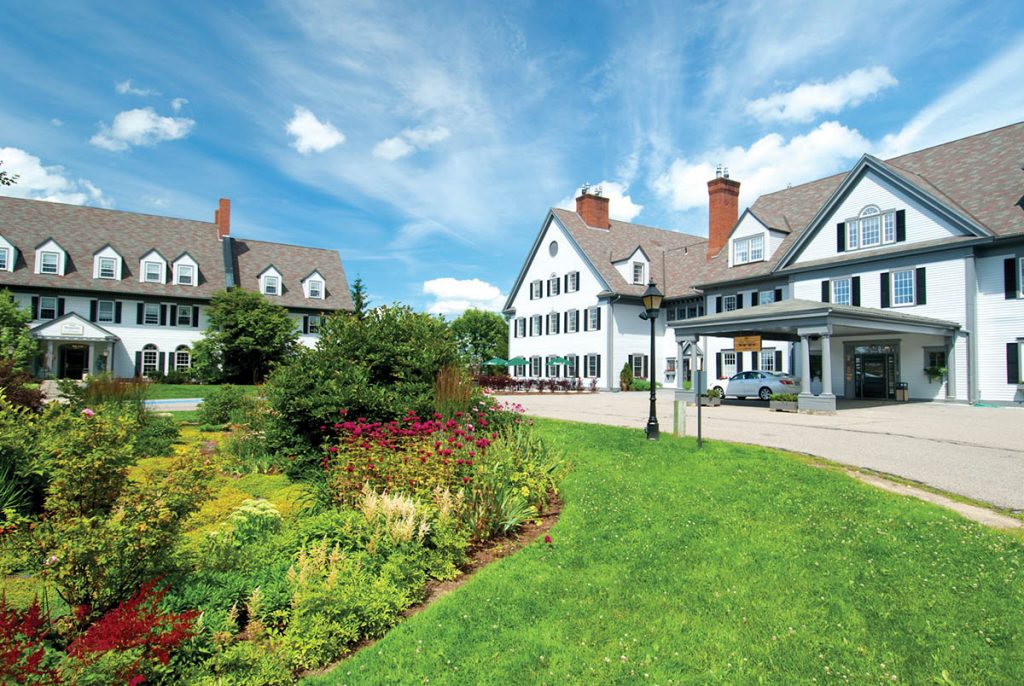 Looking for something a little more low-key? Book a maple-syrup tasting served at an evening bonfire, or take a tour of the area's numerous breweries, cideries, wineries and distilleries.
Foodies will also appreciate a stay in one of the culinary-themed guest rooms, featuring décor inspired by the colors and textures of food.
Miraval Austin Resort & Spa
Austin, Texas
Self-care, nature lovers
Nestled among the hills overlooking Austin's Lake Travis, this newly opened retreat spot promises to "elevate your well-being" with a packed daily schedule of wellness activities and spa services.
Those seeking to enjoy nature or simply look at things with a new perspective can participate in a number of unique learning programs, including "Miraval Bees," in which the beekeepers at the property's Cypress Creek Farm take participants on a journey into the world of beekeeping with honey tastings and workshops.
For some serious R&R, the Life in Balance spa offers a full menu of treatments, ranging from the traditional fare to some with a new-age flair, such as crystal energy healing sessions and silk hammock floating meditations, where you're gently elevated above the floor in a silk hammock and rocked to the soothing vibrations of crystal bowls.
You can also book private wellness sessions focusing on topics that are important to your health, like nutrition and restorative sleep. Two to consider: "Optimal Metabolism" teaches participants steps they can take to boost their metabolism and strive for optimal longevity while a "Spirit and Soul" class helps you discover your soul's journey and learn how to integrate this new wisdom into your life.
Looking to unplug? You've come to the right place. The property bills itself as a "digital-device-free resort," only permitting the use of technology in select locations to help guests practice being mindful of the moment and respectful of other guests.
© LightAndShare